Nostalgia Alert: We're going back to 1947 in this post.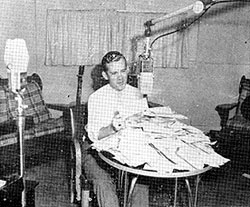 When KBOA went on the air (July 19, 1947), one of their first –and most popular– programs was "Ole Camp Meetin' Time." It was the creation of Ray Van (Hooser), the station's first program director. The program featured hymns and gospel music but was far more than a "record show." And it was immediately and immensly popular.
Sometime in the early '50's, Rudy Pylant ("Mr. Rudy") took over Ole Camp Meetin' Time and gave it his own special flavor (think Will Rogers-meets-Jerry Clower). The program continued to be hugely popular.
I was reminded of Ole Camp Meetin' Time this week when my (life-long Kennett) friend Joann sent me one of the original Ole Camp Meetin' Time Song Books. Published in late 1947, the radio staiton gave away thousands of these. Seems hopelessly quaint now but in 1947, these were like iPods.
If you grew up anywhere within a hundred miles or so of Kennett, Missouri, in the late 40's or '50s… you probably have memories of sitting at the breakfast table listening to Ole Camp Meetin' Time. As I write this, I realize I don't have the skill (or perhaps it is not possible) to convey how important this radio program was to the people that listened to it every monring. But, fortunately, I have some oral history that might come close.
Ray Van talks about putting KBOA on the air and the creation of Ole Camp Meetin' Time
Joe Bankhead remembers the programs biggest and best known sponsor, Gobler Mercantile
Mr. Rudy on his tenure as the host of Ole Camp Meetin' Time
You can read the introduction to the song book by station manager Paul C. Jones, after the jump.
So here we are sixty years later (gulp!) and it ain't your father's radio anymore. I have no illusions about returning to those days. But as I listen to the men that built KBOA talk about their love of radio (I'm not sure they would have said "the business" of radio)… I wonder if that same passion still exists today. I'm not in many stations these days so the flame might be burning brightly and I would not know. I've turned the comments on for this post for those than might.
As General Manager of Station KBOA, I am happy to have this opportunity of extending greetings to many of the listeners of Old Camp Meeting Time.
As the first year o operation of Southeast Missouri's Most Popular Station draws to a close, and we prepare to enter our second year of operation on July 19,1948, it is fitting that we express in every way possible our appreciation for the loyalty of our friends and for the many courtesies which have been extended to KBOA.
I am especially glad to have this opportunity to personally express my appreciation to Ray Van for the conscientious and tireless manner in which he has labored during this past year to make KBOA the station it is today. I doubt if any other person could have done the job that he has, in planning and presenting programs, such as "Ole Camp Meetin' Time," as well as others, which have contributed much to the popularity of KBOA. To him and all of the other loyal staff members, we owe a debt of gratitude.
To Mr. Denny Mitchell, I would also like to extend greetings, and to express our appreciation for the the sponsorship of "Ole Camp Meetin' Time," a program which I believe is without equal or parallel in the history of radio.
As this volume is being published, KBOA is beginning construction on a new home, in which we hope to be located early this fall, at which time we will have an opening to which all of our listeners will be invited. At that time, the power of KBOA-FM will be increased in order that the services of this station may be extended over a wider area.
In every way, we here at KBOA have tried to give the public the type of programs and the service that you want. The only way we have of knowing what you want is by your letting US know.
It has been a genuine pleasure for me to have had a part in promoting and developing KBOA, and as we enter this second year, I can only say, "Thank You." Won't you continue to let us know what you would have us do to serve you better? Your letters and cards to "Ole Camp Meetin' Time," and this station are read and appreciated.
Sincerely yours,
Paul C. Jones
General Manager of Station KBOA and KBOA-FM