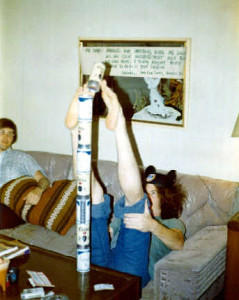 If you asked 100 people "Do you consider yourself a success?", I'd expect 90 of them to answer one of two ways: a) Yes b) Depends on how you define success. (Which sounds like "no" to me)
During my working years (I never thought in terms of 'career') I don't recall thinking in terms of success. My defining question was "Am I enjoying what I'm doing?" Yes. I did, I am. Did I have a system? I would have said, no, I was just lucky.
Reading Scott Adams' How to Fail at Almost Everything and Still Win Big got me thinking about success.
"The best way to increase your odds of success — in a way that might look like luck to others — is to systematically become good, but not amazing, at the types of skills that work well together and are highly useful for just about any job."
Adams provides a list of skills in which he thinks every adult should gain a working knowledge.
Public speaking
Psychology
Business Writing
Accounting
Design (the basics)
Conversation
Overcoming shyness
Second language
Golf
Proper grammar
Persuasion
Technology (hobby level)
Proper voice technique
In the book he makes his case for each of these skills. As I read, I evaluated my own knowledge of these skills.
Public speaking – Got my BA in Speech and Theater, taking lots of public speaking course along the way
Psychology – a course or two
Business writing – several books and some courses
Accounting – almost zero knowledge
Design – Yeah. Spent the last 10 or 15 years creating and websites for the company and clients
Conversation – co-hosted daily radio show for a dozen years. Hundreds of interviews
Overcoming shyness – college and community theater; 10,000 hours of airtime on the radio
Second language – nope
Golf – nope
Proper grammar – writing courses, public speaking, radio, all contributed
Persuasion – a couple of course in college; wrote countless radio commercials
Technology – geek wannabe. Got the computer/internet bug early and never lost it
Proper voice technique – see above
Turns out I had a pretty good handle on 9 of the 13 skills in Adams' list. Not by design, mind you, just luck. Looking back, however, I can see how these skills combined and overlapped to make me well-suited to the work I wound up doing.
I can here all those zippers coming down, ready to piss on any idea that has Scott Adams' name on it but I'd challenge you to read his book first. This little bit is just one idea in a couple of hundred pages.
I read a butt-load of management books during the first half of my working life but stopped after reading The Dilbert Principle and seeing myself lampooned on every page. Never read another management or self-help book, until this one.