Just learned that Narvel Felts will be performing at the Missouri State Fair on August 19 (part of the Country Gold Tour). According to Wikipedia, Narvel is 70, so it's good to know he's still performing.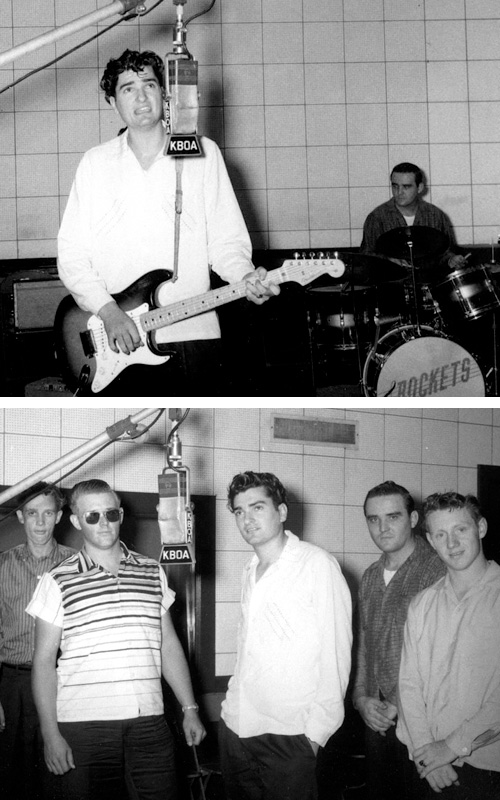 Here's a couple of photos from his younger days, taken in the studios of KBOA in Kennett, MO (circa 1950). L-R: JW Grubbs (Bass Guitar), Leon Barnett (Lead Guitar), Narvel Felts (Guitar & Vocals), Bob Taylor? (Drums), and Jerry Tuttle (Saxophone & Steel Guitar).
Wikipedia: "Narvel attended Bernie High School, Felts was discovered during a talent show at the school. He had been encouraged to participate in the show by some of his classmates, and it just so happened that a talent agent was attending the performance at the time.

Felts recorded his first single "Kiss-a Me Baby" at the age of 16, and his career skyrocketed with the help of Roy Orbison and Johnny Cash. Narvel Felts enjoyed modest pop success in 1960 with a remake of the Drifters "Honey Love" which earned a low position on the Billboard Hot 100. He went on to release such songs as "Lonely Teardrops" and "Pink And Black Days", but it wasn't until the 1970s when he began enjoying success on a national level as a country singer.

His first major hit came in 1973, with a cover of Dobie Gray's "Drift Away". Felts' version — No. 8 on the Billboard magazine Hot Country Singles chart in September 1973 — was mid-tempo country compared to Gray's blues version. The follow-up single, "All in the Name of Love," just missed hitting the top 10 in December 1973."
I'd been working at the radio station about a year when Drift Away got Narvel some notoriety and he came by the station to plug the record. It's was a big deal for Kennett, Missouri. Narvel had beautiful hair.