I've been trying to assemble the best combination (for me) of hardware and software for streaming live video. The ease-of-use and price (free, for now) of Ustream.tv has made it possible for any nimrod to play in Wayne's World.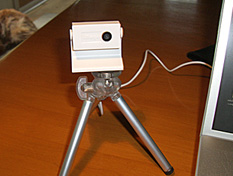 MacBooks, with the built-in iSight camera, make live video just that much easier but sometimes you want to point the camera the other direction, so an external webcam enters the picture (so to speak).
This weekend I've been playing with the iMage webcam from eCamm. It doesn't look like much but –for $60– it delivers a very nice image and you can put it in your pocket. I've mounted mine on a small tripod.
The final –and most exciting– piece of the puzzle has been a freeware app called CamTwist. CamTwist works very well with Ustream.tv and comes with an amazing set of features and a UI that's intuitive and easy to use. If you're interested, I recommend this short video, but let me mention some of the cool things CamTwist does:
Stream your desktop. Rather than making your webcam the video source, CamTwist lets you stream all or part of your computer's desktop. Let's say I wanted to show some co-workers in Des Moines how to use a new piece of software. I could simply stream the demo over Ustream. Much better than me trying to remotely "take over" their desktop.
Slide Show. The slide show source allows you to stream still pictures. You can drag pictures to the list from your desktop and even iPhoto.
Movie. With the movie source, you can play movies over your broadcast. You can drag in several movies to the play list or select a single movie with the movie selection button. Next Saturday George and I are gonna take another run at streaming live from the Coffee Zone. Instead of just watching us yacking for half an hour, we can play video clips as part of the live feed.
Flickr Set. Similar to Slide Show, the flickr set source will fetch pictures from a flickr feed and stream them on your broadcast. Why would you want to do this? I don't know, but it's cool.
Picture-in-Picture. Once you have your video going, it's possible to overlay another video source on your video.
Chroma Key. Sometimes called a Green Screen. This is typically used to create the appearance that something is behind you, such as a picture or a movie. George and I figured out the other features but I haven't tried this one yet.
There you have it. An inexpensive webcam; a feature-rich piece of freeware; and –for now– a free streaming solution at Ustream.tv. Do we have any program that's especially compelling or useful? No. But that will be the easy part. And when it comes up, we'll be ready to share it with the world.