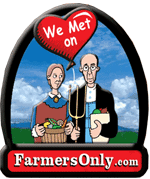 City folks just don't get it! That's the tagline for FarmersOnly.com, the online dating service for "sincere, down-to-earth people who respect and chesrish the rural lifestyle." It's the brainchild of Jerry Miller and the site appears to be red-hot. Getting lots of MSM coverage.
I spoke briefly with Jerry this afternoon. Andrew McCrea did an interview with Jerry (AUDIO: 4 min MP3) and he wanted to take a listen. How good is his idea? He's been contacted by the producers of American Idol in connection with a new reality show they're developing that sounds like "Who Wants to Marry A Farmer?" They want to tap Jerry's database. I do NOT doubt the folks behind American Idol.
This is what I love about the web. There are lots of online dating services and match-makers but Jerry saw an unfilled niche and ran with it.