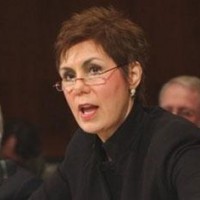 Mary Quass has been doing the radio thing for a long time. She bought her first station in 1988 and was right in the thick of the consolidation "land rush" of the late '90s. Mary's from a small town in southeast Iowa (Fairfield) and got her first radio job in 1977 selling advertising at KHAK in Cedar Rapids. She became sales manager of the station for two years (1979-82) and then served as GSM at KSO Des Moines until she returned to Cedar Rapids to purchase KHAK.
Ten years later, Quass Broadcasting merged with Capstar to form Central Star Communications, and Mary oversaw all aspects of the radio stations in her region. In July 1999, when the company merged with Chancellor Media to become AMFM Inc., Central Star Communications consisted of 66 stations in 14 midwest markets.
I've known Mary for a long time and she's been a good friend to our company. Mary is one smart lady and she doesn't think out of the box because she doesn't know there is a box. So I called to get her take on what's happening "out there." I asked her about satellite radio, podcasting, consolidation, blogs, Internet radio and a bunch of other stuff.
AUDIO: Interview with Mary Quass 30 min MP3
Correction and update: I knew that Mary had been interviewed by Radio Ink in 2003 –and mentioned it in the interview– but when I went back to check a couple of things I thought I was looking at a new interview. I wasn't. But I found a couple of interesting nuggets while re-reading the piece. Remember, this was two years ago.
"We cant just stick our heads in the sand and think that the Internet wont have an impact on Radio. This is the first technology to mean that anybody can have a radio station as good as, if not better than, whats out there today and it has nothing to do with a license. I want to be in and out of the business by then. When I was growing up, I could tell you my favorite radio station, and I was adamant about it. Well, a 12-year-old today can tell you the artists, but they may or may not have a Radio station where they know the DJs. Im very concerned about this, because we havent remained relevant to these people."

"As an industry, we got away from that and have lost sight of the fact that we must give people product that they cant get everywhere else. If we dont differentiate our product when the Internet becomes wireless, it will be a whole new ball game for all of us. We had better be ready, or the frustration we feel will only grow."