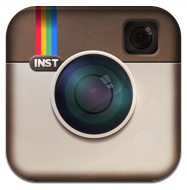 I started playing with Instagram about 6 months ago but never got around to writing about it here because I couldn't think of how to describe it ("Fast beautiful photo sharing for your iPhone").
From the website: "Snap a photo with your iPhone, choose a filter to transform the look and feel, send to Facebook, Twitter or Flickr – it's all as easy as pie. It's photo sharing, reinvented."
I have about 3,000 photos on my MacBook and a couple of thousand on flickr. I post photos here at smays.com and a few on Twitter so, there's no shortage of places to share photos. And it's really no more trouble to post a photo to flickr or Twitter than Instagram.
So how to explain the popularity of this little app (4.5 million users)? I can't.
Today I came across a website called Inkstagram that brings Instagram pics to your web browser.  So I can introduce you to the gritty images of tonydetroit; and komeda whose photos almost feature one or two people against a beautiful but lonely backdrop; and today I discovered travisjensen who sends instagrams from San Francisco.
I don't know these people and will probably never interact with them, short of liking or briefly commenting on one of their photos. But I like to think the images they share tell me something about them. Something, perhaps, they don't know about themselves.
Ah. Just came across this interview with the founder of Instagram.