I'm writing this while on hold for an XM Radio "customer service" representative. My first call was answered by a gentleman who could not figure out how to pull up my account. I gave him everything but my gene sequence. We finally gave up and I called back later.
This time I spoke with a lady who is progressing very nicely with her English lessons. I explained that I wanted to cancel my service. Nothing wrong with it, I'm just not using it enough to justify the $13/month. I told her to check the iPod box on her screen.
She insisted she couldn't deactivate my account. I would need to speak with XM's "Deactivation Department" (can't be good when you have a special department). That was 15 minutes ago and I'm still listening to some depressing jazz channel.
For the record, I tried to cancel on the XM website. Never found a page or link for that little chore. Which makes me conclude you can tell a lot more about a company or service by how easy they make it cancel, than by ease of sign-up.
Wouldn't it make more sense to quickly route calls like mine to someone with enough savvy (and English) to save the subscription? Maybe offer a cheaper or better plan? Or just fix a problem if there is one?
UPDATE: After more than two hours (over three calls) of Hold Hell, I went to Plan B. Canceled the MasterCard XM hits every three months. I got the card for just this eventuality. A little hassle updating the few services I had on that card but well worth it. PS: Seems like I'm not the only one getting this little dance.
If anyone at XM Radio is reading this… I probably owe you for a few days or weeks service. Since the card is cancelled your best bet is to call my Customer Service number (1-800-FUCKYOU). We're experiencing unusually long hold times because we don't give a shit how long you have to hold. But the wait will be pleasant because I've plugged in my iPod and set it to shuffle.
UPDATE: So I post my little rant on my lunch hour and it's now 3 p.m. Just did a Google Blog Search for "xm radio" and there it is. #3 of 135,000+ results.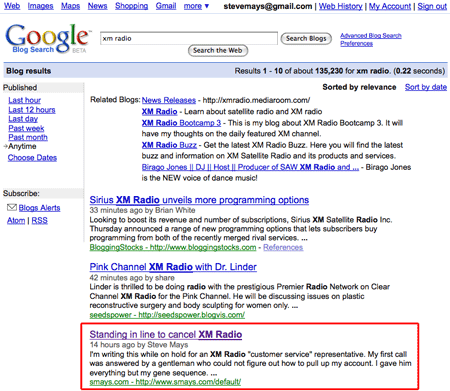 UPDATE: 2/16/09 – Following a number of comments on this post, I went back to the XM website to look for the number some say they found there. And found it with one click under YOUR ACCOUNT. I can't swear I didn't miss that during the half hour I searched the site. But I'd wager $100 if there were a way to do so.