I received the following email last week: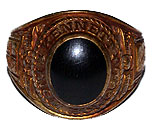 "My name is Mike McGuire. While camping at Lake Wapapello a few years ago, I came across a class ring from Kennett HS lying in the rocks. The year is dated 1966 and the initials on the inside of the ring are BDS. I looked up the students on classmates.com and found a Buddy Shivley. I sent an email through classmates.com and received no response. I then did a google search on "Buddy Shivley", "Kennett" and "MO" and came up with your site.Do you have any way to contact Buddy or his family? I would like to get in contact with him to determine if the ring is his and return it. I know this is "out there", but it is a true story. Thanks in advance for any help you can provide."
I grew up with Buddy and went to highschool with him. If you know how to get in touch with him, let him know he can stop searching for his senior ring.
Update: 9/25/07 — One ring to rule them all. Thanks to Mike McGuire, Google, and a lot of luck, Buddy Shively will soon be reunited with his Kennett High School senior ring. Email from Buddy:
"Did you go on a trip to Lake Wappappello around the time we graduated HS? (not to be confused with the (in)famous float trip) I remember about 15 or 20 of us went. I remember riding in a boat with Ronnie Carnett pulling in toward shore in water over my head. All of a sudden Pat Brooks was in the water in front of the boat and Ronnie was setting there with his foot pumping an imaginary brake pedal with the boat going on toward Pat. (I think it was Pat and Ronnie – it may have been someone else – but I was still a hero!) I dove into the water (rather heroically, I might add) and pushed the boat away from Pat.  When I came up my ring was gone and I really hadn't thought about it much in what  41 years."

And today, out of the blue, a Mike McGuire called and said he had found the ring and traced me down.  He is sending it to me.  What a deal."
Yes, what a deal. And no, I wasn't on that trip. But I love the Lord of the Rings flavor of this story. The story of my high school ring was one of the early posts here at smays.com.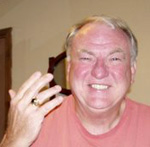 Update: 10/11/07 — Bud Shively has his high school ring back.
"Who said it wouldn't fit?  It is as good as new. It sure hasn't been worn much.  I cannot believe it. Mike McGuire, of near St Louis, found my Kennett High School Class ring that I lost about 41 1/2 years ago and graciously had it cleaned at Randy's Jewelry (you did a great job, Randy's) in O'Fallon MO and kindly returned it to me."