Every year for the past six years, Sheryl Crow fans gotten together (on her website forums) to give Sheryl a special gift for her birthday on February 11. The idea to do this originated with a fan and it involves raising money for the Delta Children's Home.
The Delta Children's Home provides an emergency shelter for children that are removed from their own home by the courts or who need shelter for other reasons (family problems, etc.). It's the only facility of its type in the area. The Delta homes do not receive money from the Federal or State government and rely on the community for support.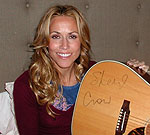 I'm a little fuzzy on just how this works but I think those who contribute to the fund drive are eligible to win a prize. This year it's an autographed guitar. If I'm wrong about the mechanics, we'll rely on Sheryl Crow fan Ann to clear it up.
Thanks to Ann for alerting us to this worthy effort. The drive ends a midnight Pacific on Monday, February 12.