This morning one of our networks posted a story about how last weeks snow and ice storm has caused millions of dollars in damage to docks, marinas, and boats at the Lake of the Ozarks. A short time later, someone forwarded a link to a web page featuring photos of the damage. I called the guy that put the page up and got his permission to use one of the images (and linked our story to his page).
I only mention this because, starting tomorrow, users will be able to upload photos and videos to a section of Yahoo called You Witness News. All of the submissions will appear on Flickr or a similar site for video. Editors at both Reuters and Yahoo will review the submissions and select some to place on pages with relevant news articles, just as professional photographs and video clips are woven into their news sites today.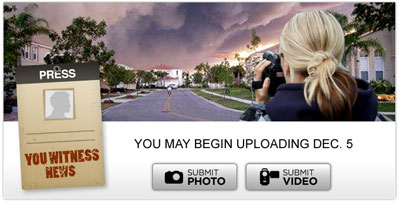 According to the story at NYTimes.com, users will not be paid for images displayed on the Yahoo and Reuters sites. But people whose photos or videos are selected for distribution to Reuters clients will receive a payment.
The piece goes on to say that Yahoo plans to use the images on its sports and entertainment sites. Over time, it wants to expand to local news and high school sports. And it will consider allowing users to contribute articles as well as images.
Now, before you tell me that the public won't be smart enough or take the time to upload a photo or video… let me just say: YouTube.
Who might use the Yahoo/Reuters service? Well, we struggle to come up with photos for the stories our networks cover. We're radio guys and we're still figuring out how to get good images for our stories. And we haven't touched video. If the Yahoo/Reuters service was easy and affordable, yeah… I'd be interested.
And here's a question for radio station webmasters: If some of your listeners have great photos and video of last night's local high school football game… and they're willing (eager!) to share them with you… do you have the wherewithal to add them to your website? Or, better question… do YOU have anything about the big game on your site? Mark my words… someone will make a place for that very local content.