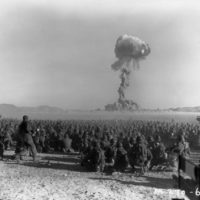 I'm about halfway through Genius, James Gleick's biography of Richard Feynman, considered by many the most brilliant American physicist of the 20th century. Feynman was probably the smartest of the scientists working on the Trinity Project (America's atom bomb program). The first (and only test) of the bomb took place July 16, 1945. American bombers nuked the Japanese cities of Hiroshima and Nagasaki a few weeks later (Aug 6-9). Japan surrendered on August 15, 1945.
My father was in the Navy from May, 1943 until March 9, 1946. He served on the USS Mount McKinley; USS Appalachian; USS New Jersey; USS War Hawk; USS Iowa; and one or two others. All of which saw action in the Pacific.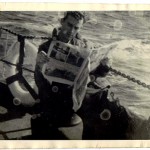 According to Gleick, building the atomic bomb dramatically affected the lives of the scientists who created it. The Japanese lives lost to this terrible weapon have always been balanced against those that would have been lost in an invasion of Japan. Like my father, for instance. Japan surrenders, they turn the ships around and head home. Discharged March 9, 1946 in St. Louis. Meets and marries my mom (March 23, 1946) who was living in St. Louis. Happy ending. For some.
I've been sitting here for a few minutes trying to boil down some meaning from this bit of history. But "what if this event hadn't happened" is a pointless game. It did happen.
"Nothing can happen unless the entire universe makes it happen. A thing is as it is, because the universe is as it is."