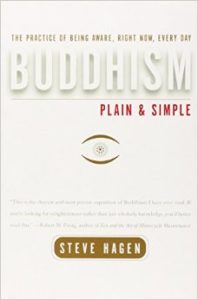 Buddhism Plain and Simple by Steve Hagen.
When the Buddha was asked to sum up his teaching in a single word, he said, "awareness."
The Buddha never considered himself to be something other than a human being — only someone who was fully awake. […] Buddha is not someone you pray to, or try to get something from. No is a buddha someone you bow down to . A buddha is simply a person who is awake — nothing more or less.
Buddhism is not a belief system. It's not about accepting certain tenets or believing a set of claims or principles. In fact, it's quite the opposite. It's about examining the world clearly and carefully about testing everything and every idea. Buddhism is about seeing. It's about knowing rather than believing or hoping or wishing. It's also about not being afraid to examine anything and everything, including our own personal agendas.
"Don't believe me because you see me as your teacher," he said. "Don't believe me because others do. And don't believe anything because you've read it in a book, either. Don't put our faith in reports, or tradition, or hearsay, or the authority of religious leaders or texts. Don't rely on mere logic, or inference, or appearances, or speculation."
The point of Buddhism is to just see. That's all. […] We cannot approach Buddhism with any assumption or belief whatsoever. […] Buddhism begins with fact. It starts with perception — direct experience. […] Truth does not need any explanation. It only needs to be seen.
Belief is at best an educated, informed conjecture about Reality. In contrast, seeing — raw, direct, unadulterated experience — is the direct perception of Reality Itself. […] Base your actions on what you see, rather than on what you think.
We can only be here. We can't leave. We're always here.
No solid, unchanging "good" or "bad" can be established. Good and bad aren't absolutes. They are beliefs, judgments, ideas based on limited knowledge as well as on the inclinations of our minds.
Generally our desire, our actions, our speech, and our thoughts are geared toward bringing about some particular end by exerting control The buddha-dharma doesn't ask us to give up control. Instead, it acknowledges that we never had it in the first place.
"I discovered one day that what I was calling "I" cannot be found, and all fear and anxiety vanished with my mistake."
To hold onto any particular view is to freeze Reality, to try to encapsulate the world into thought.
What you really need and want will never appear as an object to your mind.
The only way we can be free in each moment is to become what the moment is.
We can't comprehend Reality with our intellects. Reality simply cannot be put into a conceptual form — not even through analogy. […] You can't conceive of it, but you can perceive it.
The right intention is simply the intention to come back to this moment — to just be present with no ideas of gaining whatsoever.
Meditation is nothing other than the intention to wake up.
The mind will not be ruled. Just attend to what you're doing. Because in attending to this moment, you're attending to your own mind.
A buddha recognizes that anything put into speech is never completely reliable. Whatever someone says to you about another person is skewed from the start. It comes through their filter, their likes and dislikes, their education their ambition, and the leanings of their own mind.
As long as you think enlightenment is something special, you won't wake up.
When we see Reality we are completely beyond the realm of words and concepts. We experience what words cannot express, what ideas cannot contain, what speech cannot communicate. So, in a sense, there's nothing to say.
Our only choice of consequence lies in whether or not we're awake.
You can't want enlightenment like you want other things. There's absolutely nothing to go after.
Our thoughts and mental states are just as fleeting as the sensations of our bodies. (Like feeling hot or cold. And we have no control over them)
A key point in the practice of mindfulness is never to chastise yourself.
Do right meditation even though it's useless. Do it for no purpose.
There are two kinds of knowledge and two types of views. One consists of beliefs, opinions, conjectures — having an idea of something. It's an intellectual grasping of concepts. This is how we commonly think of knowledge.
There is a second type of view, what the Buddha called right view. Right view is not a concept or belief. In fact, it's no particular thing at all. Right view is simply seeing Reality as it is, here and now, moment after moment. It's relying on bar attention — naked awareness of what is before conceptual thought arises. It's relying on what we actually experience rather than what we think.
It's by our very desire to find meaning that we create meaninglessness.
The Buddha, relying on direct experience alone, not only found no evidence of beginnings or endings, he could find no evidence of any separate, persisting thing (self) that could have a beginning or end.
Our belief in non-existence (death) arises only as the result of hold the notion of existence (of the self) in the first place.
The awakened may have thoughts and concepts just like anyone else. The difference is that they're aware that what they actually see differs from what they think.
What is Real and True is immediately perceivable without any abstract thought — any concepts — whatsoever.
Seeing doesn't require conception, language, or memory.
Ultimate Truth can't be conceptualized or imagined. You cannot hold Ultimate Truth in your mind at all. You can see it. You just can't hold It as an idea.
Whenever we come up with any concept at all, we simultaneously create one or more opposite concepts.
We tend not to realize the extent to which we make up what we call the world.
Trying to make a leaning mind stop leaning is just another form of leaning. […] Forget yourself. Start noticing if your mind is leaning — showing preferences, making calculations, trying to bring about, trying to push away. […] When your mind is not leaning, it's none other than Whole Mind.
To awaken is not to hold the idea of awakening. You can't practice waking up.