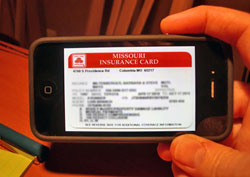 I'm not a wallet guy. I rarely have it with me and keep no more than the bare minimum in when I do. Health plan card from work; auto insurance car; voter registration card, etc. No money.
Today I scanned a couple of cards and dropped them into GoodReader on the iPhone. Probably wouldn't satisfy a trooper or the lady at the doctor's office (even though all she does is photocopy the health plan card), but better than nothing and the info is there.
I think the days of carrying around little pieces of plastic are just about over. Already over in more technically sophisticated countries.