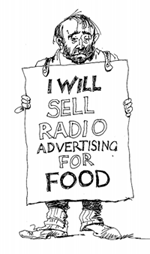 On the way home from the airport yesterday I gave some money to a man sitting at an intersection. I don't usually do that and I'm not sure why I did this time. But I think it was something about the sign he was holding. It read simply: "Homeless American."
Now, I don't know if he was homeless (he looked the part) or American, but something about the sign spoke to me. The simplicity? Maybe. For the rest of my trip I thought about the signs used by… beggars? Too Third World. Panhandlers? Let's go with that.
How important is the sign? Without it, I might have thought he was just looking for a ride, so I think the sign is a must. Usually brown cardboard and almost always lettered with black marker.
But most important of all would seem to be what your sign says. Haven't seen "will work for food" for a while (Sounds a little too much like a negotiation.) Can't be too long if you're working an intersection or even busy pedestrians.
Is there some secret list of Great Signs That Work Every Time? I'm thinking it ain't on line so they must move it from hand to hand.
Some would insist the guy I saw —and those like him— are lazy and could get a job if they wanted one. I'm not so sure.