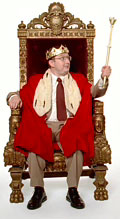 I think Jerry Seinfeld is damned funny. And smart. He's probably a good choice for Microsoft's $300 million ad campaign ("Windows, Not Walls") for Vista. Jerry is reportedly getting $10 million for the gig. If they let him write the ads, they might pull it off. I don't have to use Vista (Praise be to Allah!) but I don't hear good things about it.
I bring this up because I just checked out the latest series of Get A Mac ads. Throne, Off the Air and Pizza Box. Snap!
Here's something I've wondered… you've got Mac fan boys like me posting their love for all things Apple. Are there bloggers out there singing the praises of Vista? Drop a link in the comments.