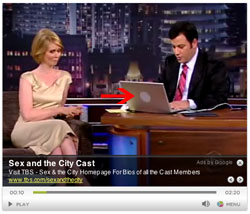 "Sex and the City's" Miranda, Cynthia Nixon, sat down with Jimmy Kimmel on Wednesday night to promote her blockbuster chick flick. Jimmy brought out his laptop partway through the interview for an online multiple choice quiz, which decides which of the four main SATC characters the taker is most like."
I started noticing this after I turned in to a Mac fanboy. What's the big deal about masking the Apple logo? I guess they'd mask any recognizable brand logo. The difference is how distinctive the MacBook is. But maybe that's true only of Mac fans. To everyone else, it's just a laptop.
So here's today's assignment: Name another product that is equally recognizable (without seeing the brand logo). Begin.