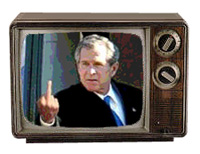 New York Times: "In an attempt to clear up questions about how an Alabama television station lost its signal at the start of Sunday's edition of "60 Minutes" on CBS, the management of the station, WHNT-TV, issued a statement Thursday citing equipment failure.
The station, in Huntsville, said that after a review, it had concluded that the blackout was related to a similar interruption during a basketball game the day before. The break in the signal, which lasted about eight minutes, came as the CBS News program was beginning a report of special interest to Alabama residents: an investigation into whether the trial and conviction of a former governor, Don Siegelman, was politically motivated. The report included charges that Republican and Bush administration officials, including Karl Rove, had sought to discredit Mr. Siegelman, a Democrat."
I'd be scared shitless if I was the engineer or producer who actually pulled the plug on that segment. A loose end that Uncle Karl might like to tie off.