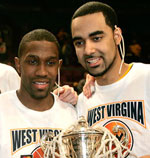 The "West Virginia" printed on the shirts players wore after winning the NIT title with a 78-73 victory over Clemson on Thursday night is missing the last "i" in "Virginia." WVU sports information director Shelly Poe said the NIT printed the shirts.
Embarrassing? Maybe a little for the NIT. But certainly not for West Virginia. Their accomplishment is in no way diminished. But it will get a little ink for a day or two.
If I were the Resident Blogger for West Virginia Athletics, I would be having some fun with this.
Invite fans to send in videos of themselves wearing the T-shirt and explaining the misspelling.
Post an explanation loaded with typos.
Have a fake professor (with British accent) explain how the spelling on the shirt is –in fact– the original, "correct" spelling of "Virgina"
Blogging lemonade.
Disclosure: The company I work for handles multi-media marketing for Clemson.