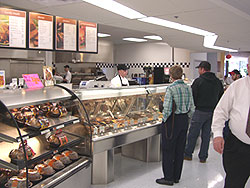 My favorite Hy-Vee Supermarket reopened today after a year-long renovation and expansion. I stopped by to get some lunch from the deli (where I get 90% of my hot meals) and took a photo. I would have taken more but one of the corporate neckties came running over to tell me I couldn't take photos. You can see half of him in this picture.
"It's okay," I told him, "I'm a regular. My wife's out of town on business and couldn't be here so I'm gonna send her a photo."
"There will be 'approved photos' in the local newspaper. I have no way of knowing what you're going to do with any pictures."
I'm sure that…let's call him "Phil"…Phil has every legal right to tell me I can't take a photo in his new store. Underlying his panic at the sight of my little Casio, however, is his lack of trust in a customer. He assumed I'd do something nefarious, like race down to Gerbe's (a competing store)…
smays: (Pant, gasp) "I' got 'em! I got 'em! Photos of the new deli at Hy-Vee!"
Gerbe's Store Manger: "Quick, let's see 'em. We've got to plan our strategy!"
As I was checking out, one of the local Hy-Vee guys came over to ask what was going on and I explained.
"What?! (exasperated sound) He'll be gone tomorrow. You can come back and take as many photos as you like."
Trust.
So, "Phil," this post is for you. I'm thrilled to have a bigger, newer, better Hy-Vee and plan to spend even more time and money in your great store. Give my best to the guys in marketing and public relations.