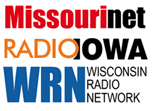 One of the first Learfield networks to have a website was Radio Iowa, our state news network in Iowa. That must have been around 1996 and it was created (using Frontpage) by Dan Arnall and Allen Hammock, a couple college guys we hired to help us figure out "this Internet thing."
Dan and Allen went on to pursue new adventures a long time ago. And we've added lots of websites –for our company and for clients– since those early days.
This week we relaunched RadioIowa.com. We relaunched WRN.com a about a month back and we'll be putting up the new Missourinet.com in a couple of weeks.
Our news networks are pretty narrow in focus. We cover the legislature, state government and –with the help of our affiliates– news from throughout our respective states.
Our websites reflect that focus. State news and sports, with an emphasis on the sounds of the news. We are, first and foremost, radio networks. Our websites are designed to complement them. They are not high-traffic, destination sites. Time will tell if this strategy is the correct one. The next couple of years should be interesting.
Our new sites are very blog-like. At WRN.com, we blog the sports and our news director maintains a blog. At Radio Iowa, News Director O. Kay Henderson is generating a real following for her political blog.
Time will tell if I have taken us in the right direction with these sites. If you like what you see, email me and I'll put you in touch with Andy Waschick, the man behind all of Learfield's websites. If you don't… please don't tell me.