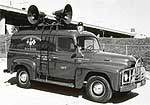 It's happening more frequently. One of our sales reps gets asked about podcasting. Technical considerations (RSS, enclosures, etc) aside… I struggle to explain the conceptual differences between a traditional broadcast and a podcast. After it's all said and done it's just audio and that makes it easy to confuse the two. But let's try this:
Broadcasting is driving a sound truck around town (or a thousand sound trucks in a thosuand cities and towns) with music or talk blaring from the speakers. Some people are paying attention… some or not, but we know that everyone in town could hear us.
Podcasting is a book club that meets every Tuesday night in the basement of the Presbyterian Church. We put a note on the church bulletin board to let folks know and they stop by and join the discussion if the book is interesting. If they have a good time, they come back next week.
The guys in the trucks want (and need) to count everyone in town as a listener. But we know exactly how many people show up for each week's book club meeting. So, can we "advertise" or "market" to the book club? Maybe.
BAD: "Can you hold that thought for just a minute, Ralph? I've asked one of the folks from Piggly Wiggly to say a few words about some of the items they have on special this week."
BETTER: "I'd like to thank everyone for coming out tonight. Before we get started, I'd like to thank Piggly Wiggly for providing the coffee and donuts."
We (broadcasters) are quite capable of producing quality podcasts. And we'll figure out a way to sell some kind of sponsorship or ads. But learning to listen to and really engage our listeners will take some practice.