My next "small histories" project will be an Internet timeline showing when and how the company I worked for viewed and used this new technology. We registered our first domain (Learfield.com) on August 30, 1995 but didn't do much with that (corporate) site. In July of 1996 we created a site for one of our news networks (Radio Iowa) but I don't recall what kinds of content we were posting in those early days.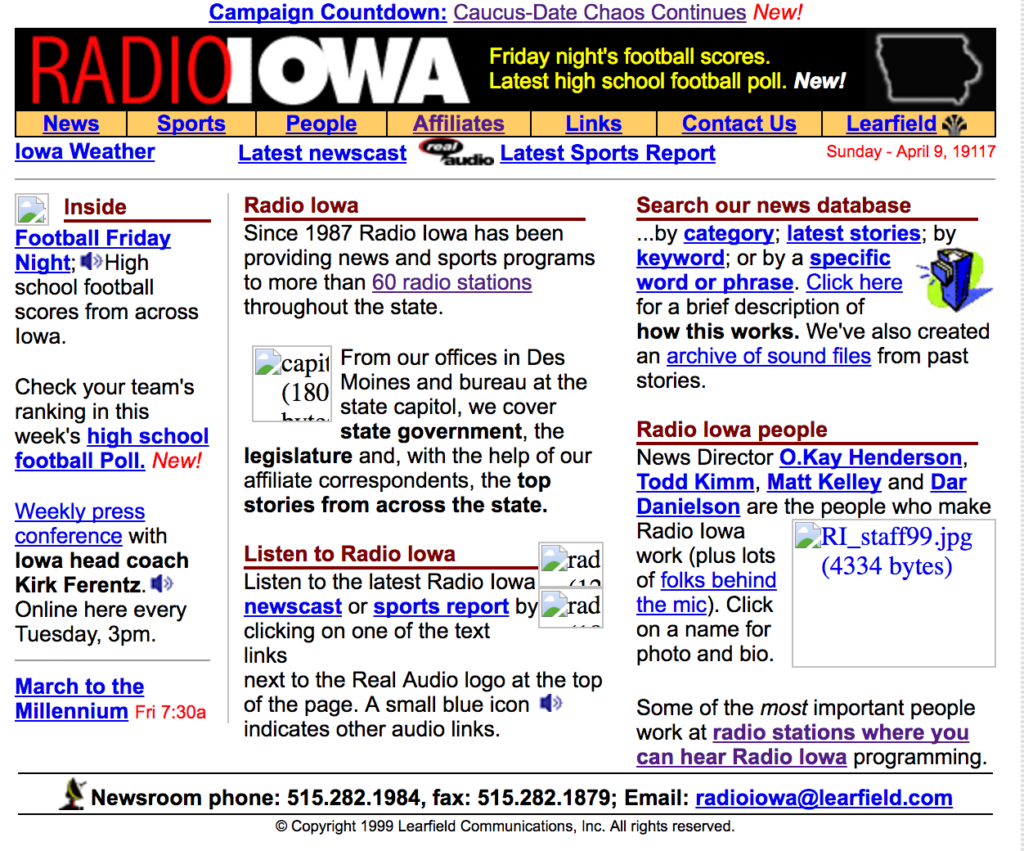 By November of 1999 we had gotten the hang of things and were putting up a lot of news (text and audio). The Iowa Caucuses pulls lots of attention to the state every four years and our network created a feature called Campaign Countdown. Our website made it possible to extend the life of the stories we fed via the radio network and reporter O. Kay Henderson cranked out a LOT of stories and interviews, all of which went online.
As we moved and updated servers and software, much of this content was lost. Or so I thought. While poking around on the Internet Archive WayBack Machine this weekend I found the Campaign Countdown reports.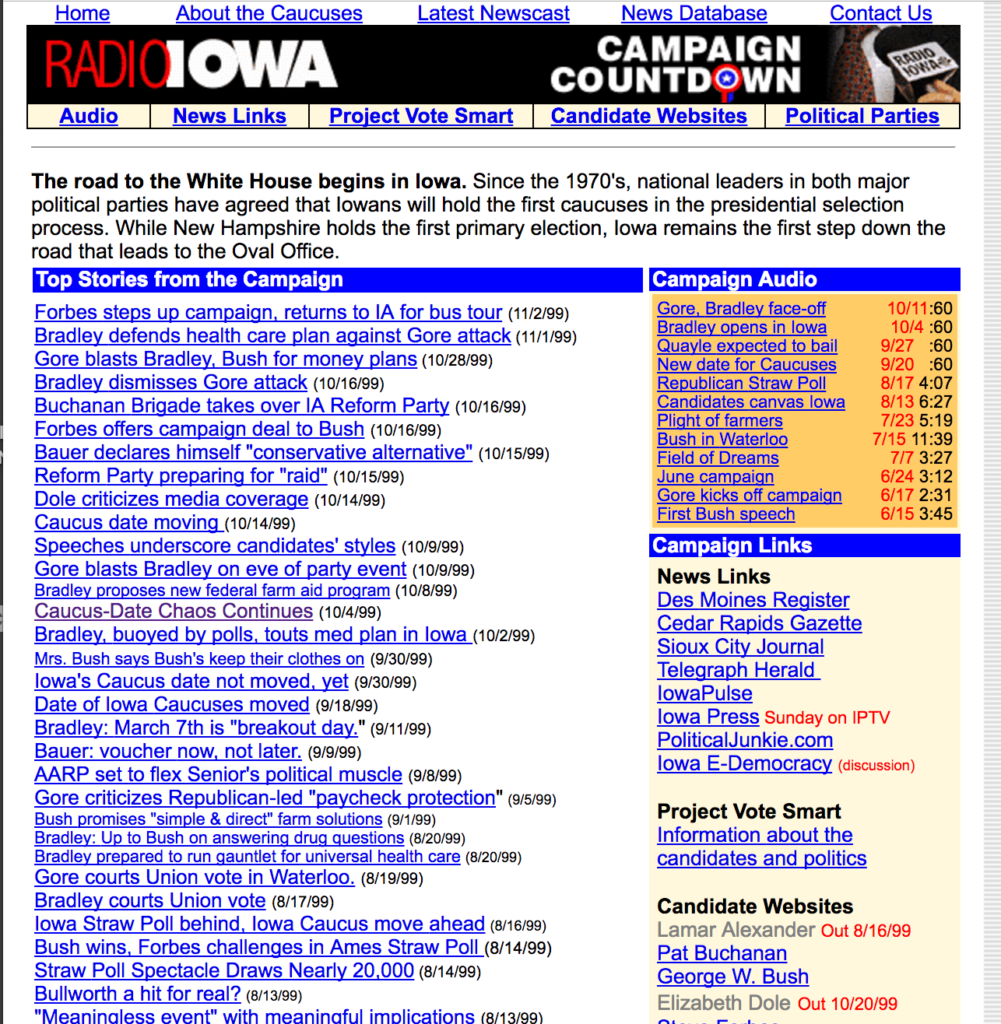 The design of the website is nothing to write home about (that's on me) but he history is real and — thanks to the Internet Archive — preserved. (I made a donation and hope you will, too). From this screenshot (partial) of our Affiliates page and you can see that about half of the stations had websites in 1999.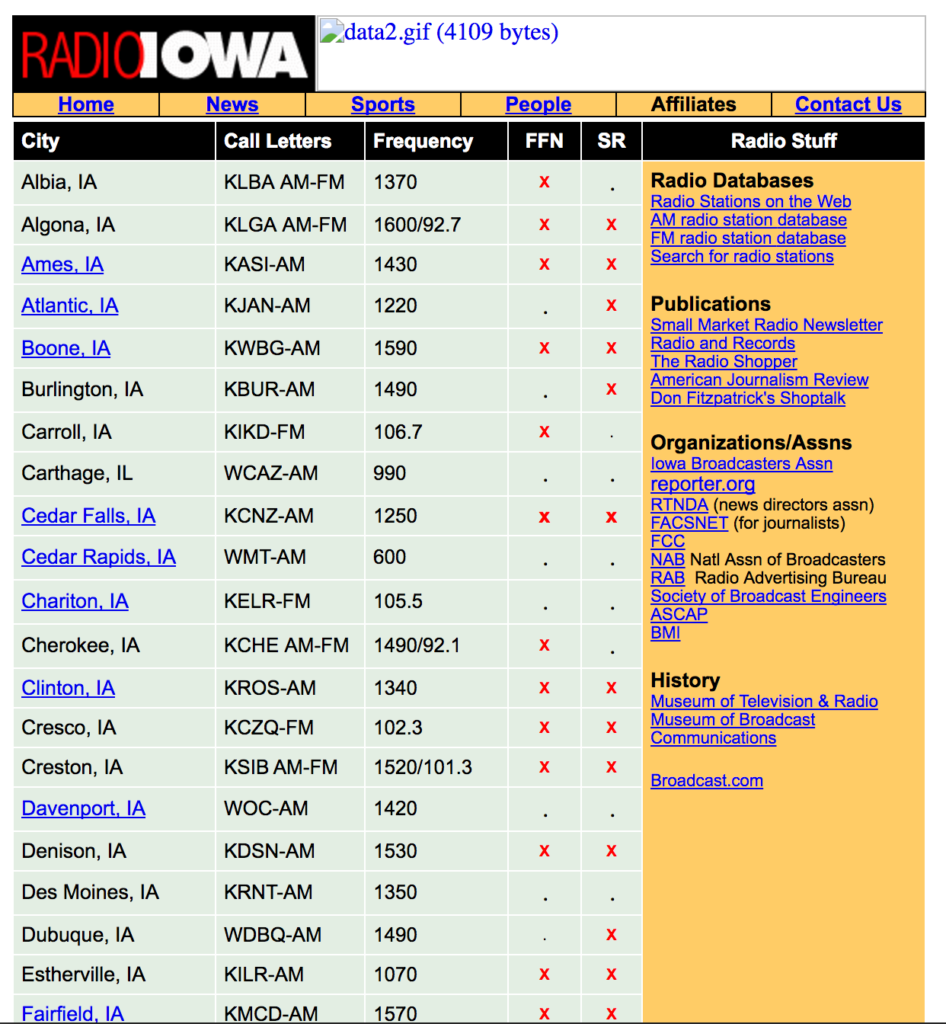 In my experience, radio stations were slow to embrace the Internet. There were a lot of reasons for this. Some good and logical, some not. Most of the programming on small market stations was music and licensing and technical issues made it impractical to "stream." I'm not sure we had that word in 1999. And why, many station managers asked, should I go to the expense and effort of creating a website when everyone we care about (advertisers and listeners) can hear our programing on the radio? Duh. And nobody was going to listen to music on a computer. (iTunes, the iPod, and XM Radio came along in 2001. Podcasting in 2004)