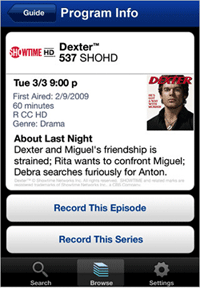 I got out of the fitness center a little late tonight and realized I wouldn't make it home in time to watch or record The Daily Show re-feed. Comedy Central used to re-run TDS and The Colbert Report one day later at 7:00 p.m. For some reason they moved the shows up an hour. I could watch the first run at 10 p.m. but I'm deep in REM sleep by then. And I think Barb Tivo's the shows, so this was hardly an emergency.
But I remembered the DirecTV app on my iPhone. I got it mostly for the schedule but seemed to recall that I could set a show to record from the phone.
It was easier to make this happen on the iPhone app than it is with the remote from home. Seriously, the app UI is much easier than the on-board software that comes with the service.