The Sons of the Western Bootheel are four guys from Kennett, Missouri, who provide an evening of clean, family entertainment.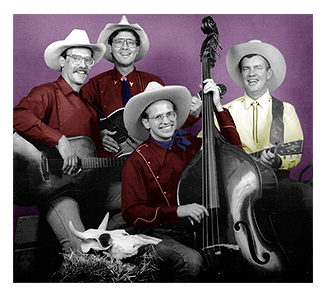 It's music and mayhem when the singing cowboys bring their blend of good harmony and bad comedy to the stage. Join the musical trail drive through the Wild West, the Old West and the Way Out West. They'll have traditional western songs and their special "Western Fusion", mixing the 1850's with the 1950's: Rhythm and Moos, Moo-Wop music and the Moo-Town Sound.
Scott Andrews is a working farmer, "the cotton-patch cowboy". Matthew Mobley is the "singing saddle maker" – a loan officer at Senath State Bank by day, he is also a craftsman who produces hand-built, hand-tooled saddles. Dr. Everett Mobley, our bass player, is "your pet's best friend". Last, but not least, is Ranger Ron Roberts, the silliest science teacher in the west.
The Sons of the Western Bootheel will provide shows from 30 minutes to 2 hours in length. They are available for meetings, dinners, or any group who would enjoy the Great American West in comedy and song. With Cowboy songs, the good guys always win.
Some Mighty Fine Cowboy Music

The Sons of the Western Bootheel have a CD featuring such cowboy classics as: Texas Plains; Ridin' Down the Canyon; Blue Gumbo; Take Me to the Bunkhouse to Die; Miles and Miles of Texas; I'm An Old Cowhand from the Rio Grande; The Jamaican Yodel; Cool Water; and Tumbling Tumbleweeds.
AUDIO: How Long Is Mr. Rudy Gonna Last?
To order your copy: Write, call or email (SOTWB@yahoo.com): Sons of the Western Bootheel, P.O. Box 533, Kennett, MO 63857; Contact: Dr. Everett Mobley 573-888-2255 Days; 573-888-1764 Nights.
On July 19, 2003, fans and friends of Rudy Pylant got together at the Kennett American Legion building for the third annual "Mr. Rudy Day." One of the highlights was a set by The Sons of the Western Bootheel, including their original composition, How Long Is Mr. Rudy Gonna Last? (link above)
The Secret Origins of the Sons of the Western Bootheel

By Everett Mobley

In August of 1990, I received a call from the organizers of the Hornersville,  Missouri Sesquicentennial Celebration. They were looking for cheap entertainment and wanted my barbershop quartet. Unfortunately (or fortunately, depending on your point of view), that quartet was defunct. "What about cowboy songs instead'?', I asked. Cowboy songs would be just fine.

On the Fourth of July that year, I had recruited my brother and two friends to add some of the Great American West to our neighborhood celebration. We put together an original number called "Wild Western Fourth of July". When I called the guys about the Hornersville gig, they were all ready to give it a try. Ever since hearing "Riders in the Sky" a few years earlier, I had been dying to emulate Ranger Doug, Too Slim and Woody Paul and here was opportunity knocking. We love the Western tradition, and we're all from the west side of Kennett, so it was a natural.

The Hornersville Celebration went well, and we had fun. "We ought to do this again sometime." About a month later, Kathy Sheldon called on behalf of the Caruthersville Business and Professional Women's Club. She wanted an entertaining program and was a fan of my "Pet's Best Friend" radio broadcasts. "What about cowboy songs instead?", I asked. Cowboy songs would be just fine.

There have been a lot of cowboy songs since then. We've played for corporate Christmas parties, community festivals (including Loose Caboose in Paragould, Kennett's Delta Fair, and numerous Labor Day and July 4th activities), church and college fund-raisers, dinner theaters, community concert series, wedding anniversary parties, Parker-Hannifin Manufacturing's thirtieth anniversary celebration, the 1998 Missouri State Lion's Club convention, Missouri State P.E.O. convention, the Delta Children's Home Charity Auction, First Annual Relay for Life in Kennett. The liveliest audience was a convention of burial insurance underwriters and the worst gig was a wedding reception in what turned out to be a cavernous bar ("No, no, really… it's not a bar, ifs a supper club.")

We all have families and full-time jobs and we usually keep close to home. We've been as far north as Farmington, Missouri, as far west as Springfield, Missouri, deep into the wilds of Arkansas, but never east of the Mississippi. When someone has an extra-special occasion, we can usually provide a custom-written song, just for them. Our four-part harmony is a strong point and we have a good time performing. The audience shares in that good time as we have fun with singing and the traditions of the singing cowboy.

My brother Matthew and I grew up with horses and B-western movies. Scott grew up with western music, The Sons of the Pioneers and such. Ron is originally from Texas, but gets his western culture from the old movies as well. Just as the Republic Pictures didn't take western history too seriously (cowboys co-existed with planes, trains and automobiles), we don't take ourselves too seriously. As Scott says, "We're a band that started with nothing… and we've brought it here with us tonight." If you enjoy Gene Autry and Roy Rogers (and can name their horses), and you don't mind mixing an Elvis impression with your cattle calls, you'll have a good time with us, too.