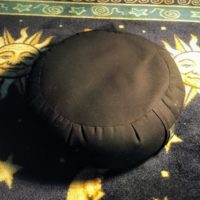 I have some bad habits and a couple of good ones. Perhaps my best habit is daily mindfulness meditation. I sit on a cushion for 30 minutes (sometimes as long as an hour) and concentrate on my breathing. That's it. That's my meditation practice. It's the best half hour of my day.
And I haven't missed a day for the last 271 days, tying previous record. My longest streak is 371 days. I've been practicing meditation for years but didn't start keeping track of my sessions until November, 2014, when I started using an app called Equanimity. It times my session and keeps a simple log.
That first streak (371 days) was broken due to a bout with pneumonia. I started over and made it 271 days before I missed while out of town at my 50th high school reunion. So now I've set my sights on 371. If I can make it to September without missing a day, I've not a new streak. And I will have only missed two days in the last 1,000.
I can't control the quality of my meditation sessions but I do have control over whether or not I sit every day. Which is important to me.
Title quote from Meditation Now or Never by Steve Hagen