In 1988 if I wanted to communicate with the 60 radio stations affiliated with our news networks, I printed it and put it in an envelope and mailed it (USPS). Took as long as four days to reach some stations. No fax machines yet and email still years away.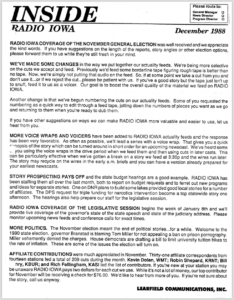 This has such a Pony Express feel to me, here in 2017. The idea of a monthly, printed newsletter seems… quaint. But I recall almost every company and association doing a monthly (sometimes quarterly) newsletter. Somebody spent hours writing these things, often with multiple managers "signing off" before they went out.
When desktop publishing (and laser printers) came along, newsletters got ugly, fast. That was my opinion and I my philosophy was text-only; short paragraphs; one page, front and back. I read somewhere, "No more than an hour to write and a minute to read." I think I knew, in my secret heart, that nobody read these things anyway. But I did them, every month for years. I kept most of them and they provide tiny snapshots of what was going one with our networks at the time.
Today we have Facebook pages and Twitter feeds and maybe even a blog or two. But I'm seeing some Big Names moving back to newsletters. Easier to monetize? More likely to be read?