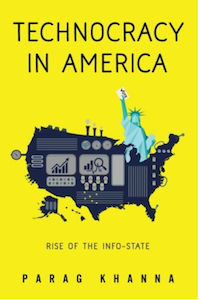 "American democracy just isn't good enough anymore. A costly election has done more to divide American society than unite it, while trust in government–and democracy itself–is plummeting. But there are better systems out there, and America would be wise to learn from them. In this provocative manifesto, globalization scholar Parag Khanna tours cutting-edge nations from Switzerland to Singapore to reveal the inner workings that allow them that lead the way in managing the volatility of a fast-changing world while delivering superior welfare and prosperity for their citizens." Amazon »
Switzerland is so decentralized it does not have a president (or head of state), but rather a Federal Council of seven members whose chairman rotates each year. (Most citizens cannot name even three of the seven.)
(Info-states) define their geography by their connectivity rather than just their territory; their supply chains are as important to their map as their location.
Their only ideology is pragmatism.
As with natural selection, governance models evolve over time through adaptation, modification, and imitation. The more the world becomes connected and complex, devolved and data-saturated, the more the info-state model will rise in status. Global political discourse is shifting into a post-ideological terrain where performance—based on citizen satisfaction and international benchmarks—is the arbiter of success.
We are coming to appreciate that the difference between successful and failing countries today is not rich versus poor, left versus right, or democratic versus authoritarian, but whether they have the capacity to meet their citizens' basic needs, empower them as individuals, and act or change course when needed. Everything else is window dressing.
Here then is a key reason to pay attention to technocracy: Because it is Asia's future. Technocracy becomes a form of salvation after societies realize that democracy doesn't guarantee national success. Democracy eventually gets sick of itself and votes for technocracy.
China's spectacular rise versus that of democracies such as India has shown the world that it is better to have a system focused on delivery without democracy than a system that is too democratic at the expense of delivery. For democracy to be admired, it has to deliver.
In the long run, the quality of governance matters more than regime type.
"Chinese people don't love their government, but they trust it."
"The Swiss no longer believe in churches and religion," muses Reto Steiner, a professor at the University of Bern. "They put their trust in deliberation, academics and experts.
Watches and knives, pharmaceuticals and chocolate, precision tools and encrypted hardware—almost everything Switzerland makes is better than anything anyone else can offer. This is because rather than shun vocational education, Swiss overwhelmingly prefer apprenticeships as a mode of skill-building for the global marketplace.
The top three most competitive economies in the world according to the Global Innovation Index (GII) are Switzerland, South Korea and Singapore, all of which have vocational educational systems and worker retraining programs and near-zero unemployment.
The state-builders, urban planners, and economic strategists of the 21st century all take their inspiration from (Singapore's founder) Lee Kuan Yew, not Thomas Jefferson.
Singapore's civil service is a spiral staircase: With each rung you learn to manage a different portfolio, building a broad knowledge base and first-hand experience. By contrast, American politics is like an elevator: One can get in on the bottom floor and go straight to top, missing all the learning in between.
At no point in the past decade has any official or academic in a foreign country told me they want their country to look like "America." They want to have a Silicon Valley, a New York City and a Boston—hubs of innovation, finance, and knowledge.
The notion that western societies rule by reason and eastern societies by despotism is a tired cliché in a world of constant data feedback.
In the coming decades, global competition will punish the sentimental. A society that could do something better but doesn't is either stupid or suicidal—or both. For political systems this means less emphasis on democracy and more on good governance. Success is measured by delivering welfare domestically and managing global complexity, not by holding elections.