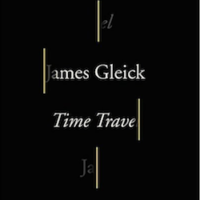 "From the acclaimed author of The Information and Chaos, here is a mind-bending exploration of time travel: its subversive origins, its evolution in literature and science, and its influence on understanding time itself."
Sleeping into the future is what we do every night.
"Man can do what he will, but he cannot will what he wills." — Arthur Schopenhauer
"People living in different countries kill each other at irregular time intervals, so that also for this reason anyone who thinks about the future must live in fear and terror. I trust that posterity will read these statements with a feeling of proud and justified superiority." — Albert Einstein's message in the time capsule buried at the 1939 New York World's Fair
We know that complete certainty must always elude us. We know that for certain.
"Time and space are modes by which we think, and not conditions in which we live." — Albert Einstein
"I have approximate answers and possible beliefs and different degrees of certainty about different things, but I am not absolutely sure of anything." — Richard Feynman
What is time? Things change, and time is how we keep track.
Schopenhauer asserted that life and dreams are pages from the same book. To read them in their proper order is to live, but to browse among them is to dream.
No one can really explain how memories are formed and retrieved. Nor can anyone explain away Proust's paradoxical contention: that the past cannot truly be recovered by searching our memories, by interrogating them, by rewinding the film or reaching back into the drawer; rather, that the essence of the past, when it comes to us at all,comes unbidden.
If you ever see yourself coming out of a time machine, run the other way as fast as you can. Nothing good can come from meeting yourself. — Charles Yu
We experience childhood one way when we're living it and another way when we relive it in memory.
But if memory is the action of recollection, the act of remembrance, then it implies an ability to hold in the mind two constructs, one representing the present and another representing the past, and to compare them, one against the other. How did we learn to distinguish memory from experience?
Our conscious brains invent the concept of time over and over again, inferring it from memory and extrapolating from change. And time is indispensable to our awareness of self. […] You order the slices of your life. You edit the film even as it records.
"There were buttons and switches everywhere—buttons to call for food, for music, for clothing. There was the hot-bath button, by pressure of which a basin of (imitation) marble rose out of the floor, filled to the brim with a warm deodorized liquid. There was the cold-bath button. There was the button that produced literature, and there were of course the buttons by which she communicated with her friends. The room, though it contained nothing, was in touch with all that she cared for in the world." — The Machine Stops by E. M. Forster
Why do we need time travel, when we already travel through space so far and fast? For history. For mystery. For nostalgia. For hope. To examine our potential and explore our memories. To counter regret for the life we lived, the only life, one dimension, beginning to end.
"We know it all now, with our thoughts travelling at the speed of tweet. We are time travelers into our own future. We are Time Lords." — Ali Smith
If we confuse the real world with our many virtual worlds, it's because so much of the real world is virtual.
Time's winged chariot isn't taking us anywhere good. […] The past, in which we did not exist, is bearable, but the future, in which we will not exist, troubles us more.
"We perceive time only because we know we have to die." — Heidegger