Apple CEO Tim Cook said that during the announcement of the latest version of Apple TV back in September. I didn't give it much thought at the time but after using apps on the TV for a few days, I'm starting to get a sense of what he was talking about. Not sure I can describe it in any useful way.
Back in the 50s we had two or three channels and everything came through one of them (in real time). Cable brought us more pipes but you had to be watching the right pipe at the right time to see what you wanted (or what the network wanted you to see). VCRs and (later) DVRs allowed us to time shift and skip commercials but its was still a channels-of-programs world.
The iPhone introduced the concept of apps. The New York Times has an app; ESPN has an app; all gods children got an app. Now the world is mobile and apps is where it's at.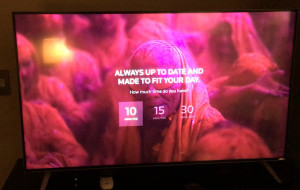 This is where I was going to try to describe how "apps for the TV" delivers a fundamentally different experience than the current TV model but I don't think I'm up to the task. I know it's a cliche but you'll just have to play with for a bit get it. But I do have one example.
The new (4th generation) Apple TV comes with an app for Reuters TV. You can watch individual stories (Trump on SNL) or categories (World News). Or you can let the app build a "newscast" for you. Tell it how much time you have (5, 15, 30 minutes) and it does the rest.
I've been impressed with the few of these I've watched. No high profile anchors and no famous network correspondents. I'm reminded of the early days of CNN Headline News with anonymous (but competent) reports told you what was happening. The reporters I've watched on Reuters TV are not slick or polished but they get the job done and the story is clearly more important than the people reporting.
The production values are excellent, they've just done away with a lot of the shit (glitzy graphics, etc) the networks have piled on over the years. And it's rare to see an NBC newscast without at least one "story" promoting the network ("More on the TODAY SHOW tomorrow morning…").
Reuters TV did toss in a couple of 10 second (?) ads but they were not intrusive and they weren't aimed at the 65+ demo.
So, if I get home in the middle of the afternoon and want a summary of news, Reuters TV can give me what I want; the length I want; when I want it. On my new big screen TV. Apps do this well. Far better than networks and cable channels.
As I get more comfortable with TV = apps I'll take another stab at describing this. I'd be very interested in hearing from others using the latests version of Apple TV.