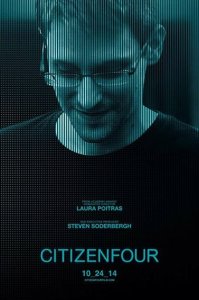 We ain't the good guys anymore. That was my take-away from Citizenfour, Laura Poitras' documentary on Edward Snowden. This is far and away the best documentary I've ever seen and it was damning. As for who's a good guy and who isn't, well, maybe there aren't any good guys anymore. I'll tell you who is not a good guy… Barack Obama. Yep, the guy I voted for, twice. Even made some donations to the first campaign. I'd say I fucked up but come on… Sarah Palin?!
As it became clear President Obama was a very different cat than Candidate Obama, I told myself he's better than George Bush and Dick Cheney. But you know, that doesn't make you a good guy. It just makes you not those bad guys.
Same goes for the USA. Yeah, there are some countries with really shitty governments. But that's a pretty low bar. Turns out our shit does stink and it's time we took a good whip.
At some point in the film I found myself thinking, "Fuck it. I hope the Republicans take the Senate. And the House. A whole bunch of Democrats have been complicit in what the NSA and the rest of the intelligence "community" have been up to and they get no more support or votes for me.
I'll calm down but I won't be the same. It's that strong a film. I've turned off comments here but would be happy to discuss privately, one-to-one. With anyone who has seen the film.