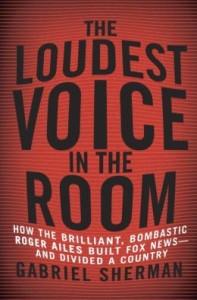 The Loudest Voice in the Room: How the Brilliant, Bombastic Roger Ailes Built Fox News–and Divided a Country (Amazon)
I rarely read biographies. And I never watch Fox News. But the excerpts from this book really hooked me and the book did not disappoint. I literally had trouble putting the book down. It read like a novel.
The image I had of Roger Ailes — before reading this book — was very superficial. Pretty much the right wing boogyman lurking in the wings of Fox News. Author Gabriel Sherman shows us a complex, talented man who is deeply flawed.
Ailes is only seven years older than I so I witnessed some of the history he helped make, starting with The Mike Douglas Show (he produced); helping Richard Nixon and two Bush's get elected; the creation of Fox News and its evolution as the propaganda arm of the modern Republican Party.
I won't look at TV news or politics in quite the same way after readying the book. The author lifted the edge of the tent just enough to see what rubes we are.
It's difficult to imagine the world won't be/become a different place after Rupert Murdoch and Roger Ailes leave the playing field. Has anybody in the last 20 years had a greater impact on the news business (and, by extension, the world) than these guys?
The TV news business that Roger Ailes helped change seems to be changing again. Will the great instincts about television carry over to the world of Netflix and YouTube? Ailes is old and sick and will — hopefully — be on the sidelines.
The Roger Ailes we see in this book is not a happy guy. Rich, powerful, talented, influential… without a doubt. But not happy. I'd give a hundred dollars to know if Roger Ailes and Rupert Murdoch read this book.