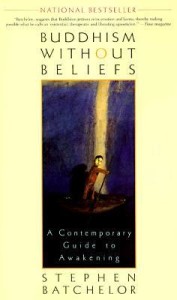 I'm not really sure what Stephen Batchelor is trying to say in Buddhism Without Beliefs. I think his main idea is there in the title. Excerpts below got some highlighter… real reviews at Amazon.  This wasn't one of my favorite books on the topic.
Awakening is no longer seen as something to attain in the distant future, for it is not a thing but a process — and this process is the path itself. […] It is an authentic way of being in the world.

The dharma is not something to believe in but something to do. [ Wikipedia: In Buddhism dharma means "cosmic law and order", but is also applied to the teachings of the Buddha.]

An agnostic Buddhist is not a "believer" with claims to revealed information about supernatural or paranormal phenomena, and in this sense is not "religious." […] The dharma is not a belief by which you will be miraculously saved. It is a method to be investigated and tried out. […] An agnostic Buddhist eschews atheism as much as theism, and is as reluctant to regard the universe as devoid of meaning as endowed with meaning.

Buddhism could be described as "the culture of awakening."

Religions are united not be belief in God but by belief in life after death.

Regardless of what we believe, our actions will reverberate beyond our deaths. Irrespective of our personal survival, the legacy of our thoughts, words, and deeds will continue through the impressions we leave behind in the lives of those we have influenced or touched in any way.

Life is neither meaningful nor meaningless. Meaning and its absence are given to life by language and imagination.

Anguish emerges from craving for life to be other than it is.

Dharma practice is founded on resolve. […] An ongoing, heartfelt reflection on priorities, values and purpose. […] Dharma practice is the process of awakening itself: the thoughts, words, and deeds that weave the unfolding fabric of experience into a coherent whole.

The process of awakening is like walking on a footpath. When we find such a path after hours of struggling through undergrowth, we know at last that we are heading somewhere. Moreover, we suddenly find that we can move freely without obstruction. We settle into a rhythmic and easy pace. […] What counts is not so much the destination but the resolve to take the next step.

Focused awareness is difficult not because we are inept at some spiritual technology but because it threatens our sense of who we are.

The stiller the mind, the more palpable the dazzling torrent of life becomes.

The world is so saturated with the meanings given to it that those meanings seem to reside in the things themselves.

At every moment we are either inclining toward or engaged in an act: a physical movement, an utterance, a thought. Even when you decide not to act, you are still doing something: refraining.

As you sit in meditation, notice how what you are doing is the enactment of an earlier resolve. By attending to the details of this present moment, by choosing not to recollect the past or plan for the future, you are engaged in a process of creating yourself in a specific and deliberate way.

What are we but the story we keep repeating, editing, censoring, and embellishing in our heads? [I am] an unfolding narrative.

We cannot attain awakening for ourselves: we can only participate in the awakening of life.

When belief and opinion are suspended, the mind has nowhere to rest.