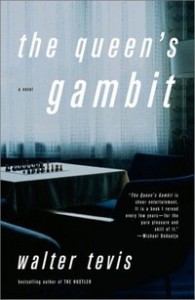 This is a thriller about tournament chess. The tournaments aren't just background for a more exciting plot, the chess games are the action. Piece-by-piece. Don't play chess? (I don't) Doesn't matter, I was on the edge of my seat. (Wikipedia)
As with the only other novel I've ready by Walter Tevis (Mockingbird), I felt a sense of impending doom on every page of this story. I was exhausted by the end. I didn't read closely enough to learn if Tevis was a chess player. Hard to image writing this story if he wasn't.
If there was a false note, for me it was the main character's struggle with alcohol and pills. According to Wikipedia, the author had the same struggle. This element just seemed "tacked on" to me.
[I was reminded of the drinking binges (and hang-overs) of Matthew Scudder, the alcoholic detective created by Lawrence Block. It was hard to read those without a cold cloth on the back of your neck.]