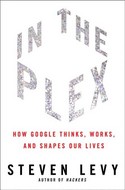 The full title of Steven Levy's book is In the Plex: How Google Thinks, Works, and Shapes Our Lives. When I finished it I was pooped and a little depressed but I'm not sure I can explain either. Read the book and we'll talk. [Good review in the Washington Post]
Looking back at some of the other books I've read about the Internet and technology, I think this might be my favorite. Up there with The Facebook Effect, Cluetrain Manifesto, and Cognitive Surplus.
David Kirkpatrick's Facebook Effect was much kinder to Mark Zuckerberg than The Social Network but that story didn't move me the way In the Plex did. And I'm sort of dreading the biography of Steve Jobs, though I can't say why.
I used up some highlighter on this one and will add those passages here in a day or so.