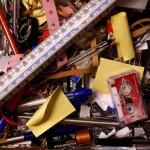 I'm guessing most who visit here never notice the sidebar. It can turn into a "kitchen drawer" pretty quickly. Cluttered with all kinds of stuff you couldn't find a better place for but didn't want to throw away.
I did a little house cleaning yesterday and got rid of some stuff but did add a couple of YouTube players. It had been a while since I played with YouTube's Playlist feature and it's gotten better/easier.
One player shows clips from movies, the other some videos that made me say "wow."
If you only glance at one thing in my sidebar, make the Google Reader Shared items near the top.