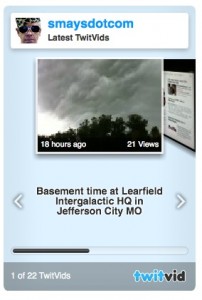 TwitVid is one of the countless apps that spring up around Twitter. I'd used it a time or two and started seeing it show up in tweets immediately after (during?) the tornado that hammered Joplin, MO. People were shooting amazing video with their phones and post directly to Twitter and Facebook via TwitVid.
So I've started using it again, mostly for short, update videos. Just a quick "check this out" clip. A bunch of our employees were posting photos and videos to our internal network during a tornado warning.
I've added a widget to the sidebar where you can browse my twitvids.