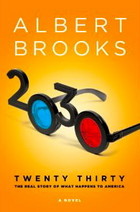 I'm a big fan of Albert Brooks. Defending Your Life, Lost in America, Taxi Driver, Private Benjamin… pick your favorite. He writes, directs, acts… TV, movies and, now, novels.
I just finished 2030 and found it both depressing and inspiring. Here's a little taste from a NYT review:
In the future America of "2030," the national debt has long since surpassed the gross national product. Why anyone would want to be president is "more and more of a mystery." On the rosy side — well, sort of — a cure for cancer has been found, turning the man who did it, Dr. Sam Mueller, into a billionaire and a guru.

The bad news? Along with a stock of lesser rejuvenating drugs and gadgets, Mueller's breakthrough has left spry hordes of senior citizens cheerily hogging most of the country's remaining resources. Seeing their own chance at the good life shrink to zero, young people are forming "resentment gangs" and committing acts of escalating violence against "the olds." The White House's first Jewish occupant, the brainy but melancholy Matthew Bernstein, would like to give them a fairer share of the pie, but even he doesn't dare risk the wrath of AARP.
I have to say that just about everything in this story seemed plausible to me. Brooks fans won't be disappointed. A few excerpts after the jump…
"There were no trusted sources of newsgathering anymore, no voice of one news organization or one reporter that people believed over another. It was a combination of professionals, amateurs, citizens, gossip, pictures fed to a world from billions of handheld devices; a whole slew of information that people someone how had to slog through and decide from themselves what was true."

"If we don't improve our youth's chances for a better life, we will one day hand this country over to a generation that does not want it."

"NewsOne was a combination of professional and amateur video capture. It had no commentary, just raw footage from wherever it originated."

"The 'last of the true white people,' as they called themselves, they realized they were never going to get America back, and all they could hope for was to make it really unpleasant for everyone else to live there."