I stopped by Barb's office yesterday to hand-deliver some flowers. Her office is a block from the Coffee Zone. I purchased this lovely loose arrangement from River City Florist which is also about a block from the Coffee Zone.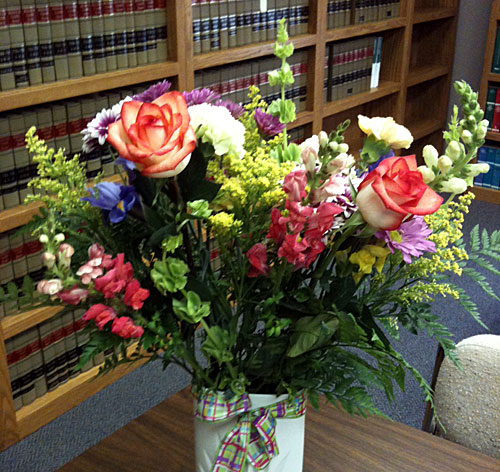 They really do a nice job and for reasons I cannot fathom, they only charge half-price if I stop by the shop and pay cash. Maybe the mark-up in flowers is that high… I don't know and don't care. The flowers are beautiful and different every time.
I'm going to ask if they'll let me record the person (down in the basement!) doing the arrangement. He or she makes the bouquet very fast and it might be interesting to see the process.
PS: No, I get no discount for this endorsement. Since I shared my Valentine Day Massacre story, I thought I'd give my new florist some props.