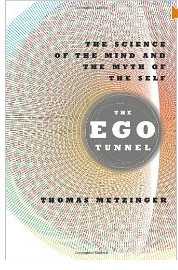 I've been doing a good bit of reading about consciousness, reality, ego and such. A lot of it is tough sledding. LIke Thomas Metzinger's The Ego Tunnel, which –according to this review– is "for the curious and fearless lay person wanting to know who, precisely, we are."
The best I can do with books like this is highlight the portions that make some sense to me and stick 'em here, completely out of context.
UPDATE: I read this book on my iPad and only recently learned that I could share all of my highlighted passages via Amazon/Kindle.
"When we speak of conscious experience as a subjective phenomenon, what is the entity having these experiences?"

"Why is there always someone having the experience? Who is the feeler of your feelings and the dreamer of your dreams? Who is the agent doing the doing, and what is the entity thinking your thoughts?Why is your conscious reality your conscious reality?"

"Yes, there is an outside world, and yes, there is an objective reality, but in moving through this world, we constantly apply unconscious filter mechanisms, and in doing so, we unknowingly construct our own individual world, which is our "reality tunnel." We are never directly in touch with reality as such, because these filters prevent us from seeing the world as it is. The filtering mechanisms are our sensory systems and our brain, the architecture of which we inherited from our biological ancestors, as well as our prior beliefs and implicit assumptions. In the end, we see only what our reality tunnel allows us to see."

"In dreamless deep sleep, nothing appears: The fact that there is a reality out there and that you are present in it is unavailable to you; you do not even know that you exist."

"It is unsettling to discover that there are no colors out there in front of your eyes. The apricot-pink of the setting sun is not a property of the evening sky; it is a property of the internal model of the evening sky, a model created by your brain. The evening sky is colorless. The world is not inhabited by colored objects at all."

"What is really happening is that the visual system in your brain is drilling a tunnel through this inconceivably rich environment and in the process is painting the tunnel walls in various shades of color."

"The brain constantly creates the experience that I am present in a world outside my brain."

"Consciousness is knowing that you know while you know."

"Now-ness is an essential feature of consciousness."

"There is no immediate contact with reality."

"Flagging the dangerous present world as real kept us from getting lost in our memories and our fantasies."

"From an evolutionary perspective, thinking is very new, quite unreliable (as we all know), and so slow that we can actually observe it going on in our brains. In conscious reasoning, we witness the formation of thoughts; some processing stages are available for introspective attention. Therefore, we know that our thoughts are not given but made."

"There is more to an existence worth having, or a life worth living, than subjective experience."

"Most of us do not value bliss as such, but want it grounded in truth, virtue, artistic achievement or some sort of higher good. We want our bliss to be justified. … We want a reason for our happiness."