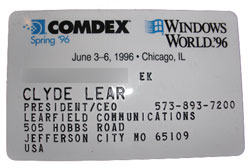 I found this convention badge on a closet shelf this morning and it brought back memories. First, a little background from Wikipedia:
"COMDEX (an abbreviation of Computer Dealers' Exhibition) was a computer expo held in Las Vegas, Nevada, each November from 1979 to 2003. It was one of the largest computer trade shows in the world, and by many accounts one of the largest trade shows in any industry sector. The first COMDEX was held in 1979 at the MGM Grand, with 167 exhibitors and 3904 attendees."
I don't remember what year I first attended COMDEX. Sometime in the lates 80's or early 90's if I had to guess. It was my first exposure to geek culture and I loved it. Not sure how I persuaded Clyde to attend (or how I ended up with his badge) but he's sort of a geek wannabe like me.
The move from the NAB Radio Show to COMDEX marked the beginning of my shift in interest and career path.