I'm no longer on the company computer network. My iMac is one of only a half dozen or so Macs in the building and I made very little use of the network anyway. And it's something of an experiment.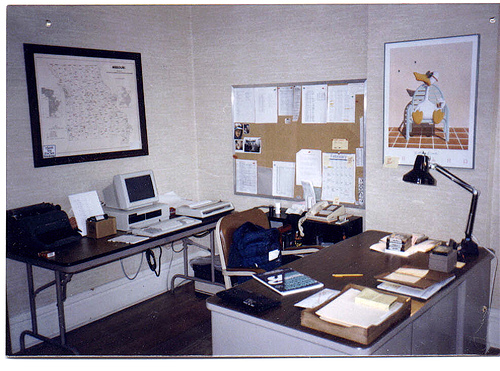 I had one of the first personal computers in our company. I bought a Zenith back in the late 80's and used it for word processing and for tracking affiliate stuff. It was connected to no thing and nobody (except my little dot matrix printer)
The first "network" in the company –as far as I can recall– was a peer-to-peer lash-up in the Missourinet newsroom. No network server, just individual PC's (Compaq's with 20 MEG hard-drives) talking to each other.
I don't remember the exact evolution after that but before long the building was networked and as we added offices throughout the country, they came online. And we now have two full-time network administrators and the network has become critical to the operation of our company.
So why did I cut the cord?
As one of the "web guys," most of my work has been taking place "in the cloud" for some time. I access company email from a web browser and can do just about everything I need to do, without being on the company grid.
Plus, anytime there was a software upgrade, I had to ask someone with admin privileges to do it for me. Sort of like having your mom come unzip your pants so you could pee. Unpleasant for everyone.
When coworkers need to send me a file that is too large to attach to an email, they drop it on one of the network drives I can no longer access from my iMac. I'm working around that and will eventually get them to put it up on my iDisk, Dropbox or drip.io. Which works in the other direction, too.
For me the Net has become the network. Lots of storage, nearly ubiquitous access, great tools. I feel like a dog that chewed through his leash. Woof!