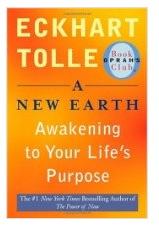 One measure of a book (for me) is how many passages get highlighted [after the jump]. What ideas will I want to find again? A New Earth by Eckhart Tolle had some on nearly every page. For example:
"Most people are so completely identified with the voice in the head — the incessant stream of involuntary and compulsive thinking and the emotions that accompany it — that we may describe them as being possessed by their mind. You take the thinker to be who you are. … Your thinking, the content of your mind, is of course conditioned by the past: your upbringing, culture, family background, and so on."
Everything in the book made perfect sense to me. I'm trying to incorporate man of his ideas into my life. If you've read the book, feel free to comment.
"…when survival is threatened by seemingly insurmountable problems, an individual life-form –or a species– will either die or become extinct or rise above the limitations of its condition through an evolutionary leap." – pg 20

"A significant portion of the earth's population will soon recognize, if they haven't already done so, that humanity is now faced with a stark choice: Evolve or die." – pg 21

"We are coming to the end not only of mythologies but also of ideologies and believe system. … At the heart of the new consciousness lies the transcendence of thought." – pg 21

"What a liberation to realize that the "voice in my head" is not who I am. Who am I then? The one who sees that. The awareness that is prior to thought, the space in which the thought–or the emotion or sense perception–happens." – pg 22

"Thoughts consist of the same energy vibrating at a higher frequency than matter, which is why they cannot be seen or touched." – pg 146

"You look at the present through the eyes of the emotional past within you. In other words, what you see and experience is not in the event or situation but in you." – pg 173

"Being present is always infinitely more powerful than anything one could say or do." – pg 176

"…heaven is not a location but refers to the inner realm of consciousness." – pg 23

"Words, no matter whether they are vocalized and made into sounds or remain unspoken as thoughts, can cast an almost hypnotic spell upon you. You easily lose yourself in them, bercome hypnotized into implicitly believing that when you have attached a word to something, you know what it is." – pg 25

"Words reduce reality to something the human mind can grasp." – pg 27

"Most of the time it is not you who speaks when you say or think "I" but some aspect o fthat mental construct, the egoic self." – pg 30

"…the shift in identity from being the content of their mind to being the awareness in the background." – pg 30

"The egoic mind is completely conditioned by the past." – pg 34

"The unconscious compulsion to enhance one's identity through association with an object is built into the very structure of the egoic mind." – pg 35

"Most people don't inhabit a living reality, but a conceptualized one." – pg 37

"Being must be felt. It can't be thought." – pg 40

"Life will give you whatever experience is most helpful for the evolution of your consciousness." – pg 41

"The ego isn't wrong; it's just unconscious." – pg 42

"The ego doesn't mind what it identifies with as long as it has an identity." – pg 44

"…making yourself right and other wrong is one of the principal egoic mind patterns." – pg 44

"The ego tends to equate having with Being: I have, therefore I am. And the more I have, the more I am. The ego lives through comparison." – pg 45

"How do you let go of attachment to things? Don't even try. It's impossible. Just be aware of your attachment to things." – pg 45

"Wanting keeps the ego alive more than having" – pg 46

"The consciousness that says 'I am' is not the consciousness that thinks. … When you are aware that you are thinking, that awareness is not part of thinking. … If there were nothing but thought in you, you wouldn't even know you are thinking." – pg 55

"The ultimate truth of who you are is not I am this or I am that, but I Am." – pg 57

"Whenever tragic loss occurs, you either resist or you yield." – pg 57

"Most people are so completely identified with the voice in the head — the incessant stream of involuntary and compulsive thinking and the emotions that accompany it — that we may describe them as being possessed by their mind. You take the thinker to be who you are. … Your thinking, the content of your mind, is of course conditioned by the past: your upbringing, culture, family background, and so on." – pg 59

"In most cases, when you say "I," it is the ego speaking, not you. It consists of thought and emotion, of a bundle of memories you identify with as "me and my story," of habitual roles you play without knowing it, of collective identifications such as nationality, religion, race social class, or political allegiance. It also contains personal indentifications, not only with possessions, but also with opinions, external appearance, long-standing resentments, or concepts of yourself as better than or not as good as others, as a success or failure." – pg 60

"Every complaint is a little story the mind makes up that you completely believe in." – pg 61

"Instead of overlooking unconsciousness in others, you make it into their identity." – pg 62

"The ego's greatest enemy of all is the present moment, which is to say, life itself." – pg 63″The ego's greatest enemy of all is the present moment, which is to say, life itself." – pg 63

"Whenever you notice that voice, you will also realize that you are not the voice, but the one who is aware of it. … The moment you become aware of the ego in you, it is strictly speaking no longer the ego, just an old, conditioned mind-pattern. … Every time it is recognized, it is weakened." – pg 64

"When you complain, by implication you are right and the person or situation you complain about or react against is wrong. There nothing that strengthens the ego more than being right. For you to be right, you need someone else to be wrong. You need to make other wrong in order to get a stronger sense of who you are." – pg 67

"Every ego is a master of selective perception and distorted interpretation. Only through awareness –not through thinking– can you differentiate between fact and opinion." – pg 68

"The (church's) Truth was considered more important than human life. And what was the Truth? A story you had to believe in; which means, a bundle of thoughts. … Thought can at best point to the truth, but it never IS the truth." – pg 70

"The particular egoic patterns that you react to most strongly in others and misperceive as their identity tend to be the same patterns that are also in you. … Anything that you resent and strongly react to in another is also in you." – pg 74

"Whatever you fight, you strengthen, and what you resist, persists. … There is a deep interrelatedness between your state of consciousness and external reality." – pgs 75-76

"All that is required to become free of the ego is to be aware of it." – pg 78

"Spiritual realization is to see clearly that what I perceive, experience, think, or feel is ultimately not who I am." – pg 78

"The only thing that ultimately matters: Can I sense my essential Beingness, the I Am, in the background of my life at all times?" – pg 79

"Whatever behavior the ego manifests, the hidden motivating force is always the same: the need to stand out, be special, be in control; the need for power, for attention, for more. … The ego always wants something from other people or situations." – pg 80

"The ego thrives on others' attention, which is after all a form of psychic energy." – pg 85

"Can you cease looking to thought for an identity? … When you play roles, you are unconscious." – pg 90

"Don't say, "I'm unhappy." Unhappiness has nothing to do with who you are." – pg 95

"Rather than being your thoughts and emotions, be the awareness behind them." – pg 96

"Awareness is the greatest agent for change." – pg 99

"Doing is never enough if you neglect Being." – pg 103

"You are most powerful, most effective, when you are completely yourself. But don't try to be yourself. That's another role." – pg 108

"Assumptions (are) unexamined thoughts that are confused with reality." – pg 114

"You don't live your life, but life lives you. Life is the dancer, and you are the dance." – pg 115

"Before you were the thoughts, emotions, and reactions; now you are the awareness, the conscious Presence that witnesses those states. … To become free of the ego, be aware of your thoughts and emotions — as they happen." – pg 117

"Your entire personal history, which is ultimately no more than a story, a bundle of thoughts and emotions, (is) of secondary importance." – pg 117

"Each person is so identified with the thoughts that make up their opinion, that those thoughts harden into mental positions which are invested with a sense of self. Identity and thought merge." – pg 121

"When work is no more than a means to an end, it cannot be of high quality." – pg 122

"When work is no more than a means to an end, it cannot be of high quality." – pg 122

"Strictly speaking, you don't think: Thinking happens to you. Digestion happens, circulation happens, thinking happens." – pg 129

"Although the body is very intelligent, it cannot tell the difference between an actual situation and a thought. It reacts to every thought as if it were a reality." – pg 134

"The ego is the voice in (your) head which pretends to be you." – pg 134

"Thoughts consist of the same energy vibrating at a higher frequency than matter, which is why they cannot be seen or touched." – pg 146

"You look at the present through the eyes of the emotional past within you. In other words, what you see and experience is not in the event or situation but in you." – pg 173

"Being present is always infinitely more powerful than anything one could say or do." – pg 176

"Who you are requires no belief. In fact, every belief is an obstacle." – pg 189

"Most people define themselves through the content of their lives. Whatever you perceive, experience, do, think or feel is content. When you think or say, "my life," you are not referring to the life that you ARE but the life that you HAVE, or seem to have. You are referring to content –your age, health, relationships, finances, work and living situation, as well as your mental-emotional state." – pg 193

"Only if you resist what happens are you at the mercy of what happens, and the world will determine your happiness and unhappiness." – pg 200

"It is at this moment that you can decide what kind of relationship you want to have with the present moment." – pg 201

"The decision to make the present moment into your friend is the end of ego." – pg 201

"Instead of adding time to yourself, remove time. The elimination of time from your consciousness is the elimination of ego. It is the only true spiritual practice." – pg 207

"For the ego to survive, it must make time –past and future– more important than the present moment." – pg 207

"You are present when what you are doing is not primarily a means to an end (money, prestige, winning) but fulfilling in itself, when there is joy and aliveness in what you do." – pg 211

"People believe themselves to be dependent on what happens for their happiness." – pg 213

"Become conscious of being conscious. Say or think "I Am" and add nothing to it." – pg 236

"Breathing isn't really something that you do but something that you witness as it happens. … Whenever you are conscious of the breth, you are absolutely present. Conscious breathing stops your mind." – pg 245-246

"Stillness is the language God speaks, and everything else is a bad translation." – pg 255

"To be still is to be conscious without thought. … When you are still, you are who you were before you temporarily assumed this physical and mental form called a person." – pg 256

"Awakening is a shift in consciousness in which thinking and awareness separate. … Instead of being lost in our thinking, when you are awake you recognize yourself as the awareness behind it." – pg 259

"Presence: consciousness without thought" – pg 259

"The separation of thinking and awareness happens through the negation of time. When you negate time, you negate the ego." – pg 265

"You cannot become successful. You can only be successful. Don't let a mad world tell you that success is anything other than a successful present moment." – pg 270

"Your entire life journey ultimately consists of the step you are taking at this moment. This doesn't mean you don't know where you are going; it just means this step is primary, the destination secondary. And what you encounter at your destination once you get there depends on the quality of this one step. What the future holds for you depends on your state of consciousness now." – pg 271

"Thinking cuts reality up into lifeless fragments." – pg 276

"You can only lose something that you have, but you cannot lose something that you are." – pg 293