Dylan and Miles dropped in at the Coffee Zone this morning. They're high school sophomores in Savannah, Missouri. Dylan brought his new iPad which he purchased with money from his summer job (scanning medical records).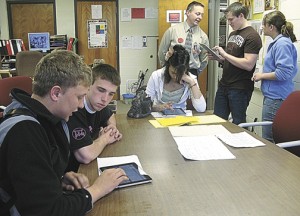 He has a desktop computer (and a Blackberry) but no laptop. I found it interesting that he would go for the iPad instead of a laptop. But not surprising. I think we'll see this happening more and more. For all the reasons we've mentioned here. Price and cool factor topping the list.
Dylan says he plans to take it to class this fall. Would like to know how that works out.
Lots of colleges are exploring ways to bring the iPad into the classroom.