Beginning Monday, the 123 back-lit nameplates about the lockers of Nebraska's varsity football players will be replaced with iPads.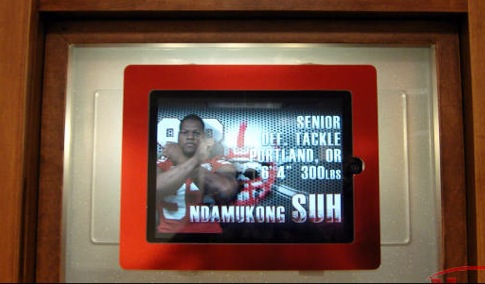 From the story on Huskers.com:
Nebraska Athletic Director Tom Osborne admitted Friday that he didn't know a lot about iPads, "but the main purpose," he said, "is for communication, so if Bo (Pelini) or an assistant coach needs to schedule a meeting, everybody can know immediately, whether they're in the varsity locker room or the walk-on locker room at the Hawks Championship Center.

For compliance reasons, the iPads will be mounted into each player's locker. The football staff will have the ability to send messages to the players via their iPads. The players will be able to acknowledge and respond, but their messages will be limited to football and academic personnel only.

The new capability will enable the football staff to post events to each player's iPad calendar, so he will know the times of each practice, conditioning session, academic meeting or position meeting, even if it's called at the last minute.

What about the capability to access all iPads remotely so they can play the same video at once?

"Wireless can cause a slight delay, but yes, that's the plan – to get all to play at once when the situation calls for it," said Chad Chiesa, a Nebraska Athletic Department IT specialist. "With the assistance of a software development firm that specializes in mobile device applications, our hope is to keep everything in sync."
I'm sure the guys in Cupertino didn't foresee this particular use of the iPad but they knew in their hearts and smart heads that there would be no end of creative uses. Do you think they pull these down and replace them with the new RIM Blackpads? Or Microsoft's Slate?
via Uber Husker, Todd Perry