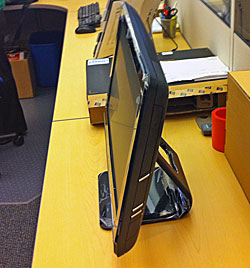 Our local HP rep brought a new computer by the office yesterday for our IT guys to check out. It's the HP 6000 PRO. I couldn't resisit teasing him a little about the revolutionary design breakthrough.
"Whoa! That is so COOL! Everything built right into the monitor? No separate box?! Damn!
This is just the sort of thing that makes PC's hate Mac fanboys like me. But I couldn't help myself. Apple introduced the iMac G5 in 2005. 5 years is a lifetime in hardware innovation.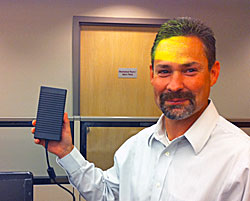 And then Phil dug out the HP's power supply and I felt so bad for the rep I wanted to give him a hug. This thing is literally the size of a brick. The only good thing about the monster is you can rest your feet on it.
There's nothing wrong with seeing a good design and emulating it. Shit, Apple does this. But if you go that right, at least try to make your design a little better than the one you are copying. And there's the rub. Just can't do it and keep keep the price down.