I keep up with a lot of passwords. Between WordPress, Twitter, flickr, Gmail, FTP accounts, etc for company and client websites (and my own)… 200+ logins. You have to have a secure way to manage all of this.
I've been use an app called Wallet for the last couple of years but recently purchased 1Password (on the solid recommendation of my Mac mentor, George).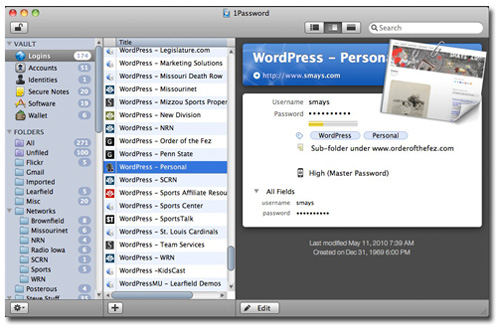 I won't attempt to list the features. There are too many and I'm still new to the program. But it's as beautiful as it is functional. All my stuff is sync'd via the cloud so I can access from all of my computers and devices (iPhone, iPad, etc). Everything in one place, behind some really good encryption. They make it easy to be smart about my data.
1Password costs about $40 but it's worth every penny. Mac and PC.