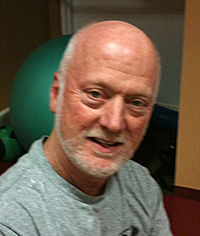 All I know about Dennis Forbis is he is a nice man. A patient man. A forgiving man. We workout at the same fitness center and he always remembers my name. And I seem to have some sort of mental block that prevents me from remembering his. Once or twice is embarrassing. Half a dozen times is mortifying.
So tonight I interrupted his workout to snap this photo and I'm posting it here in an effort to burn Dennis' image and name into my brain. I'm even giving Dennis his own tag: Nice Man.
Dennis, if you're reading this, let's have a beer. I want to know your lift story. I want vivid details that I can never forget.