Okay. I'm a little relieved. I love my MacBook Pro and I was a little worried the iPad might steal me away. After a couple of hours with the iPad, I'm no longer fearful of falling out of love with my MBP. But it will take some time playing with the iPad before I can offer any useful insights. But here are some first impressions:
It won't save newspapers and traditional media. I tried the New York Times app and it was a step down from the browser experience of the NYT (and I could not copy/paste from the app. WTF?). I suspect that will be the case for most media sites.
I think I'll watch more YouTube videos than I do on my laptop. It was just… handy.
And I'll read some books (I bought the ebook version of Cryptonomicon by Neal Stephenson (Even though I have several hardback/paperback versions). It was fun to search the 1,100+ pages and then copy/paste. Not a big deal unless you're a reader.
The Netflix app is kind of nifty. I can see watching movies on the iPad. In bed and and on the plane. Very different from watching on a laptop.
And the ABC app. We're not in Kansas anymore, Dorothy. The TV just might be how your meemah and pappah watch their favorite shows. The iPad could be how YOU watch them. When you want… where you want.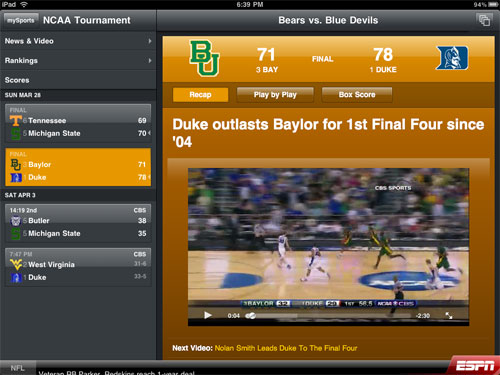 I'm gonna open comments on this post but don't bother weighing in unless you've had your hands on one of these (i.e. Don't know a movie/book you haven't seen/read).
This is a game changer, kids. You'll have one of these by Christmas.
UPDATE: It's Monday morning and my buddy David and I have had our iPads for a couple of days. Here's 20 min of first-impression chit chat. AUDIO