I can't believe I'm still having to make this case. But I can throw a rock and hit half a dozen people in our company who –at the mention of Twitter– will huff, "I don't care about what some stranger had for lunch!"
I think most of them know that something more important is going on but they don't want to admit they might be wrong on the topic. And because they are NOT part of "the conversation," they don't see tweets like these on the Twitter page of Mark Neumann, a candidate for governor in Wisconsin, where our company operates a news network.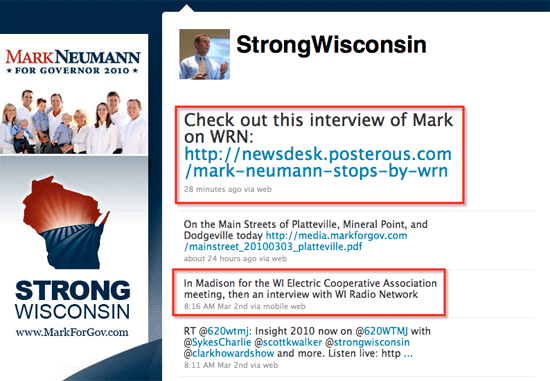 Neuman has almost 3,600 followers and some of them –who might not otherwise– might hit the link to our site to hear the interview with their guy.
PS: This is the kind of blindness that brings out the smart ass in me.